The partying goes on at Earl's Court, but new formats and self-publishing are changing the industry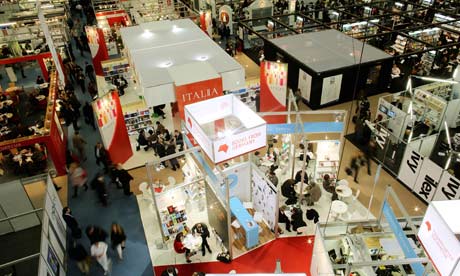 The trays of free wine and boastful talk of six-figure deals struck at dinner parties might seem to some like the last days of decadence for a
publishing
world in denial about the digital storm clouds gathering overhead.
But in the main hall of Earl's Court, hundreds of publishers gathered for the 41st London Book Fair have been showing stands of lovely new books as editors meet agents and foreign publishers keen to buy unpublished books, sell foreign rights, and relentlessly talk up their new titles.
In this comfortable world the digital crisis has passed. Every publisher has a digital division, everyone is delighted with
ebooks
, and the genteel industry that variously describes itself as "quirky" and "a triumph of hope over expectation" bumbles on like before – only with slightly less booze and book fair japes such as editors inventing a "hot" new book title and watching it earnestly debated as a literary sensation.
The view from the fair's digital zone in the smaller second hall, however, is very different. Here, the physical book trade is dismissed as "legacy publishing" – a pejorative term.
According to George Lossius of Publishing Technology, which provides digital portals and sales systems, non-academic publishers still do not understand the digital world.
"It's not because they are not trying to, it's not because they are not open to it. It's because they've been dazzled by Amazon and
Apple
and Google, rather than thinking what they can do with their digital content," he said. "They've just reproduced the book in a
Kindle
."
Simon Potter, of Fast-Print Publishing, said: "The book industry – and I think most people in the industry would admit it – is a mess. There's a lot of people stuck in their ways. Maybe they're in denial that the world is changing. Maybe they don't want the world to change."
Potter is not a big player. Fast-Print has self-published 1,400 authors in a decade, including two of his own – Simon Potter Has The Perfect Face For Radio, and Weird And Wonderful Tales From Peterborough – and would once have been derided as vanity publishing.
In the digital age, however, self-publishing is an idea whose time has come.
The consensus among traditional publishers in the main hall is that they had a wakeup call when Waterstones teamed up with Sony to sell its Reader in 2008. For a few heart-stopping years, publishers feared they would be completely bypassed.
Now they get revenue from ebooks, and all the editors and agents are still here, in jackets and horn-rimmed spectacles, sipping wine beside posters of next season's literary gods, Christopher Hitchens, Will Young and J K Rowling.
Business is brisk upstairs at the 584 tables for literary agents who, like speed-daters, try to charm foreign publishers into buying rights to their authors' books in half-hour rendezvous. The fair has become the largest dedicated rights centre in the world.
Read the full story at The Guardian.