Robert McCrum attends a book slam – and sees the future of publishing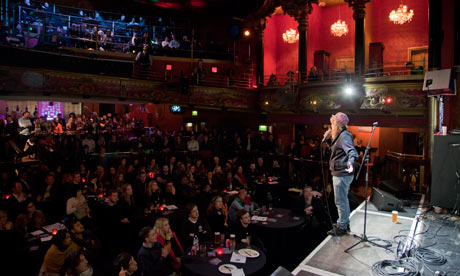 Last week I went to a book slam in Battersea, south London. Pioneered eight years ago by the novelist
Patrick Neate
,
Book Slam
describes itself as "London's leading literary shindig", and it is. Mixing poetry, prose, comedy and song, it takes inspiration from the full-on improv spirit of poetry slams, an international phenomenon, and blends lit fest with stand-up with singles night. In its early days it hosted
Nick Hornby
,
Hari Kunzru
,
Kate Nash
and
Adele
.
Book Slam, says Neate, on a soapbox, celebrates cultural diversity and works on the principle that "literature is not something high-falutin' and esoteric, but rather a key part of our popular culture. The stories we tell, read and hear make us who we are."
Tonight's Book Slam, engagingly hosted by
Ross Sutherland
, headlined
William Boyd
, with support from the poet
Martin Figura
and a forgettable band who bridged the two halves of an entertaining two-hour evening.
The big surprise here is the audience, average age 35 but numbering close to 500. Not bad for a Tuesday night. The club – a down-at-heel, late-Victorian music hall, the Grand – is packed with a crowd of… what ? These readers are hard to read. The vibe is metropolitan but not too cool, chatty but not raucous. Book Slam aficionados crowd the tables in the pit beneath the bar but there are plenty of men and women standing at the back.
Read the full story at The Observer