Now 91, PD James retains a special place in the hearts of fans – who include fellow authors – so we invited her readers to pose the questions for our interview. Here, the author talks about our appetite for detectives and her Jane Austen sequel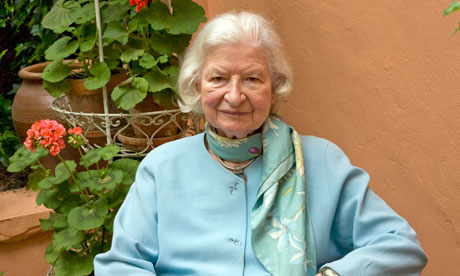 At 10 o'clock
PD James
– or Baroness James of Holland Park, OBE – walks into her sitting room. We last met almost 20 years ago in the same room and there is, along with the deja vu, a sense of wonder at seeing her again. At 91, she is remarkable. She is looking marvellous in an elegant powder-blue jacket of oriental cut, offset by a narrow silk scarf decorated with flowers. She is frailer than when last we met (she has survived heart failure and had a hip replaced in 2007) but otherwise is unchanged and in no way extinguished. She is as kind, civil and forthright as I remember. Her secretary, friend and all-round prop, Joyce McLennan, has tea and biscuits ready on the table. Everything is in order – above all, PD James's shipshape mind. Incidentally, P and D stand for Phyllis and Dorothy.
It is splendid, she volunteers, to be answering questions from readers and fellow authors. She avoids being insulting yet her view is implicit: journalists are less likely to be armed with surprising questions. As a crime writer, surprise is PD James's forte. Her ability to keep readers guessing has not failed her in half a century. And it is characteristic that, towards the end of her writing life, she should elect to spring a new surprise on us. It would have been pardonable – admirable indeed – to have published another novel starring policeman poet Adam Dalgliesh. But
Death Comes to Pemberley
(now out in paperback) is a plucky new adventure, a sequel to Jane Austen's
Pride and Prejudice
that doubles as a murder novel.
PD James has been an Austen devotee all her life. She can hear Austen's voice with her inner ear, become her echo on the page.
Death Comes to Pemberley
is a masterly pastiche. It is more streamlined than her other
fiction
, involving only one murder and one suspect, but it fills us in on Elizabeth and Darcy and their marriage and satisfies that curiosity one has as the reader of a classic romance: did they live happily ever after?
Read the rest and the interview at The Observer