David Beckham, Rio Ferdinand, Wayne Rooney: Fergie spills the beans and gives a lesson in how to be a terrible ex-manager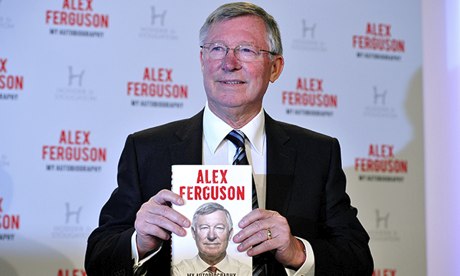 Sir Alex Ferguson may have retired from football management, but like a deposed postwar prime minister his memoirs live on. Part news story, part superheated publishing beano and without doubt the most swaggeringly A-list football book of the year, decade and – it seems safe to say – entire spectrum of past and future time, Sir Alex Ferguson's autobiography is finally upon us.
Unveiled at a launch-cum-press-event on Pall Mall, the book itself was available under strict pre-launch embargo from the publishers Hodder & Stoughton at 10 o'clock sharp on Tuesday morning.
And so it arrived in convoy, glossily packaged, and coming in at a muscular 402 large-type pages, all fronted up by a wonderfully stark full-face Fergie portrait: imperious, gently amused and posed against a sheer white background like some benevolent creator.
To give My Autobiography its due it is hard to imagine, in outline, a more potent footballing memoir. Ferguson's retirement last May brought to an end the greatest career in English football's recent years of plenty.
Ferguson not only straddled but helped to define the transformation of an industry, his 27 years at Manchester United entirely bound up in this violently hot-housed blooming from marginalised popular sport to thrummingly unavoidable celebrity entertainment vehicle.
More